Bea's Sweet Potato Souffle

​​​​​​​My mom's treasured recipe is a Thanksgiving favorite.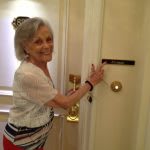 Serves 4-6
3 cups of boiled and mashed (peeled) sweet potatoes
2 eggs
1 cup of granulated sugar
1/4 cup of melted butter
1/2 tsp of salt
May add cinnamon
​​​​​​​
Combine ingredients in casserole dish

Topping:
1/4 cup melted butter
1 cup of brown sugar (light)
1/2 cup of self-rising flour
1 cup of chopped nuts

Mixed together – it will dry.

Put on top of sweet potato mixture.

Bake at 350 degrees for 30 minutes.