Father's Day in Coral Gables is typically celebrated with a pool party and family barbecue. Poor Dad usually doesn't get the day off from the grill but I've assembled a few Coral Gables' homes for sale that I have listed which have ideal backyards where Dad can step up his grilling game.

​​​​​​​To entice him to upgrade his BBQ setting for next year, I've even curated the ideal menu for him to perfect.
5602 SAN VICENTE STREET, CORAL GABLES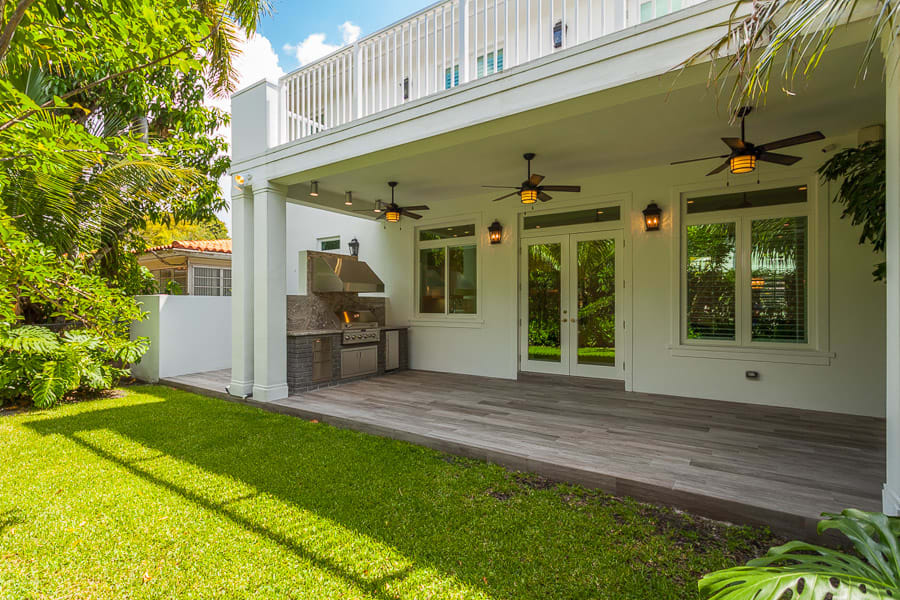 This newly constructed home will suit Dad and guests' just fine with impressive finishes and upgrades. Additionally, the low maintenance yard and built-in summer kitchen will provide him with loads of time to perfect this side dish with a unique twist.
Smokey Grilled Potato and Corn Salad
​​​​​​​
Courtesy of:
Serves 4-6

2 pounds small red potatoes, scrubbed
4 scallions, trimmed
3 ears of corn, husked and silks removed
2 cloves of garlic – not peeled – skewered on a wooden stick
2-3tablespoons olive oil
3/4 cup mayonnaise
1 – 2teaspoons smoked paprika
1/2teaspoon cumin
3 tablespoons Champagne vinegar
1 teaspoon lemon zest
1 bunch watercress, chopped
DIRECTIONS
To pre-cook the potatoes, place them whole in a stock pot of boiling salted water and cook for 15 – 20 minutes until they are just tender (this will depend greatly on the size of your potatoes). Drain and cool slightly so you can handle them. Cut in half or in quarters – depending on the size of your potatoes (but big enough that they can sit on your grill grates and not fall through).

Light your grill to medium high. Brush your potatoes, corn, scallions, and garlic with olive oil and season with salt and pepper. Grill the potatoes until they have nice grill marks – but they should be cooked through in step one.

Grill the corn about 5 minutes – until it is nicely browned and charred in some spots. Grill the scallions about 2 minutes per side – until browned. Cook the garlic skewers on a cooler area of the grill, turning frequently, until the clove is softened but does not burn. (depending on the size of the clove – 8-10 minutes).

Place the potatoes in a bowl. Cut the corn off the cob and chop the scallions and place them in the bowl with the potatoes.

Make the dressing: Peel and crush the garlic into a paste. Mix it with the mayo, (1-2 teaspoons – see headnote) smoked paprika, cumin, champagne vinegar, and lemon zest. Season with salt and pepper.

​​​​​​​Add the watercress to the potato mixture and pour the dressing over (see headnote – first start with half and add more to reach your desired creaminess) and fold in gently. Taste for seasoning. Can be served slightly warm, at room temp, or chilled.
701 SAN JUAN DRIVE, CORAL GABLES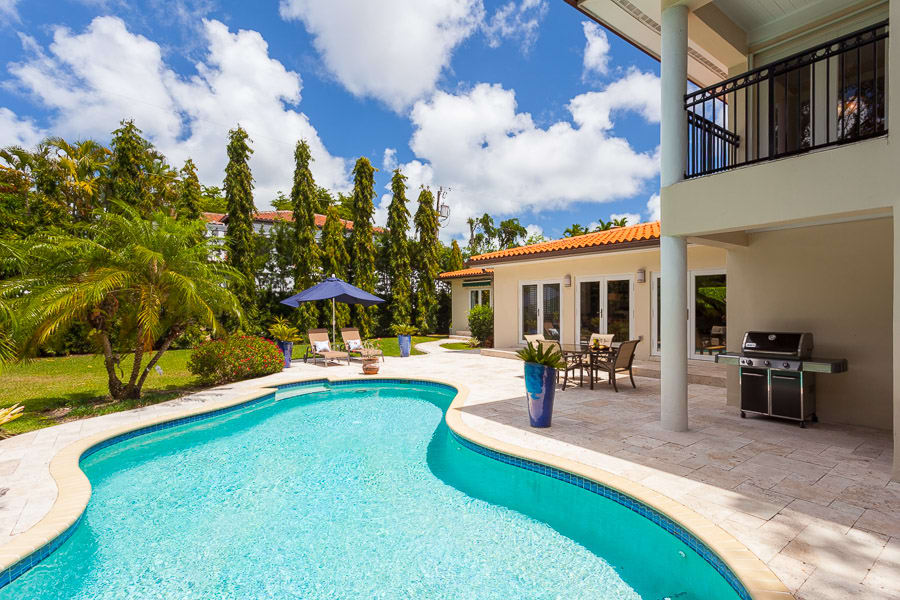 This spacious and beautifully updated home in Coral Gables' coveted Platinum Triangle, can definitely be dubbed Dad's castle. With 6 bedrooms and nearly 14,000 sq ft lot, this inviting home will be the backdrop to countless cannonballs and kabobs.
Garlic & Cilantro Lamb Kabobs

Courtesy of:
Serves 4-6

Marinade:

1/2 cup packed fresh cilantro leave
3 medium cloves garlic, peeled
1/4 cup dark raisins
1/2 teaspoon garam masala
1 1/2 tablespoons lemon juice
1/2 cup olive oil
1 teaspoon table salt
1/8 teaspoon ground black pepper
2 1/4 pounds boneless leg of lamb, trimmed of fat and silver skin and cut into 1-inch pieces
3 bell peppers, 1 red, 1 yellow, and 1 orange, cut into 1-inch pieces
1 large red onion, cut into 3/4-inch pieces
*Lemon or lime wedges for serving (optional)*
DIRECTIONS
Process all of the marinade ingredients in workbowl of food processor fitted with steel blade until smooth, about 1 minute, stopping to scrape sides of workbowl with rubber spatula as needed.
Toss marinade and lamb in ziploc bag; seal bag, pressing out as much air as possible and refrigerate for at least 2 hours and up to 24.
Light one chimney full of charcoal. When all the charcoal is lit and covered with gray ash, pour out and spread coals out evenly.
While the fire is lighting, starting and ending with meat, thread 4 pieces meat, 3 pieces onion (three 3-layer stacks), and 6 pieces pepper in mixed order onto skewers.
Grill kabobs uncovered, turning each kabob one-quarter turn every 1 3/4 minutes to brown all sides, until meat is well browned all over and cooked to medium-rare, about 7 minutes. Transfer kabob to serving platter, squeeze lemon or lime wedges over kabob if desired, and serve immediately.
219 RIDGEWOOD ROAD, CORAL GABLES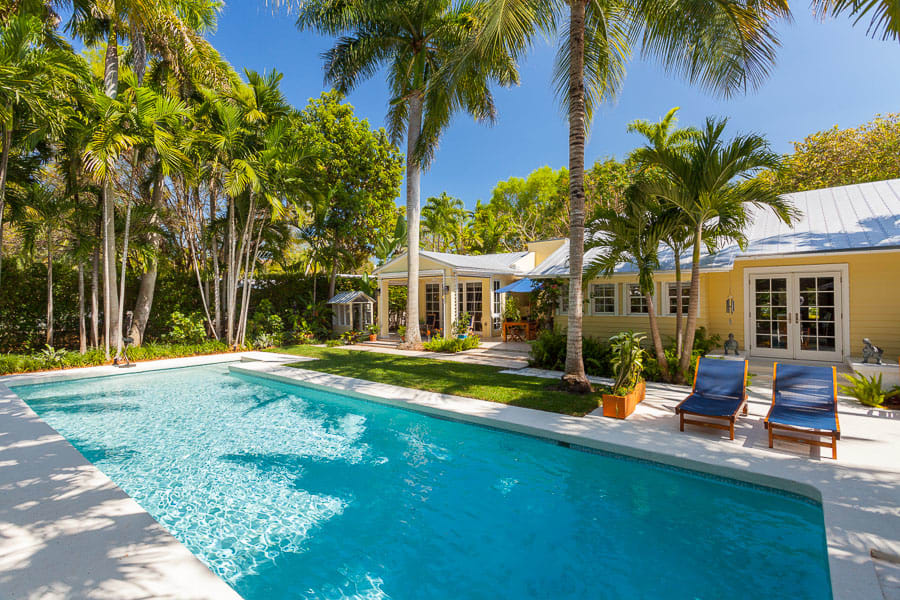 If Dad appreciates Old Florida charm, this Grove-inspired bungalow and guest cottage might be his forever home (and yours too). Good luck trying to keep Dad out of this refreshing pool amidst this tropical paradise. Manage to do that and you may enjoy a sweet grilled treat in the sweetest of settings.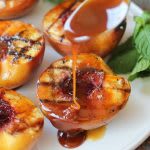 Grilled Peaches With Butter Rum Sauce

Courtesy of:

Serves 4-6

Recipe
4 Slightly Ripe Peaches
1/3 cup unsalted butter
1/8 teaspoon salt
1/3 cup brown sugar
Rum to Taste
Vanilla Ice cream
DIRECTIONS
1. Melt butter in saucepan. Add salt and brown sugar. Cook this mixture until brown sugar is melted, about 3 minutes. Add rum—the mixture will bubble up. Boil mixture another 5 minutes. Set sauce aside and prepare peaches.

2. Halve or quarter peaches. Oil the grill grates with canola or other neutral oil. Grill peaches a few minutes without sauce. Brush par-cooked peaches with sauce and at this point they must be watched closely due to the sugar content of the sauce. As peaches develop grill marks, they can be removed to a platter. Do not overcook or peaches will not hold their shape.

3. Gently reheat sauce. Place ice cream in a stemmed glass. Add 2 to 3 peach quarters. Drizzle sauce over top.
Hope these beautiful backyards and tasty recipes inspired you to celebrate Dad this Father's Day and everyday.
To tour these homes or any other homes for sale in Coral Gables, Coconut Grove or nearby Miami enclaves, feel free to contact me at .