The Miami Herald's food editor, Evan S. Benn, recently published his
top 10 dishes for 2015
. Two Coral Gables restaurants snagged a coveted spot on Benn's shortlist. The top dish, in fact, hails from our cherished Gables neighborhood. I find that very impressive when there is so much competition in Miami! Coral Gables restaurants have long been among my favorites, though. Nestled within the romantic city of Coral Gables and away from the throngs of tourists, a Gables eatery is always a safe bet.
The two Coral Gables dishes that were highlighted in particular sound terrific! Here's the food editor's mouth watering description.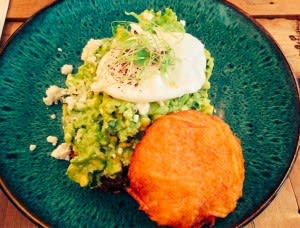 Smashed Avo
Smashed Avo: A heap of Hass avocado is mushed up with lime juice, feta cheese and fresh basil, spilling over the jagged crusts of toasted Zak the Baker multigrain bread that's layered with sliced, thyme-roasted portobello mushrooms. Best served with a poached egg and a puck-size side of hot, salty hash browns, it's our 2015 Dish of the Year.
Blistered Red Cabbage: Red apple, house-aged red wine vinegar, creamy stracciatella and crunchy seeds: a tangy, textural, acidic, sweet and salty knockout.
There are Coral Gables homes for sale within walking distance to these notable restaurants. If you are interested, I'll see what's cooking!