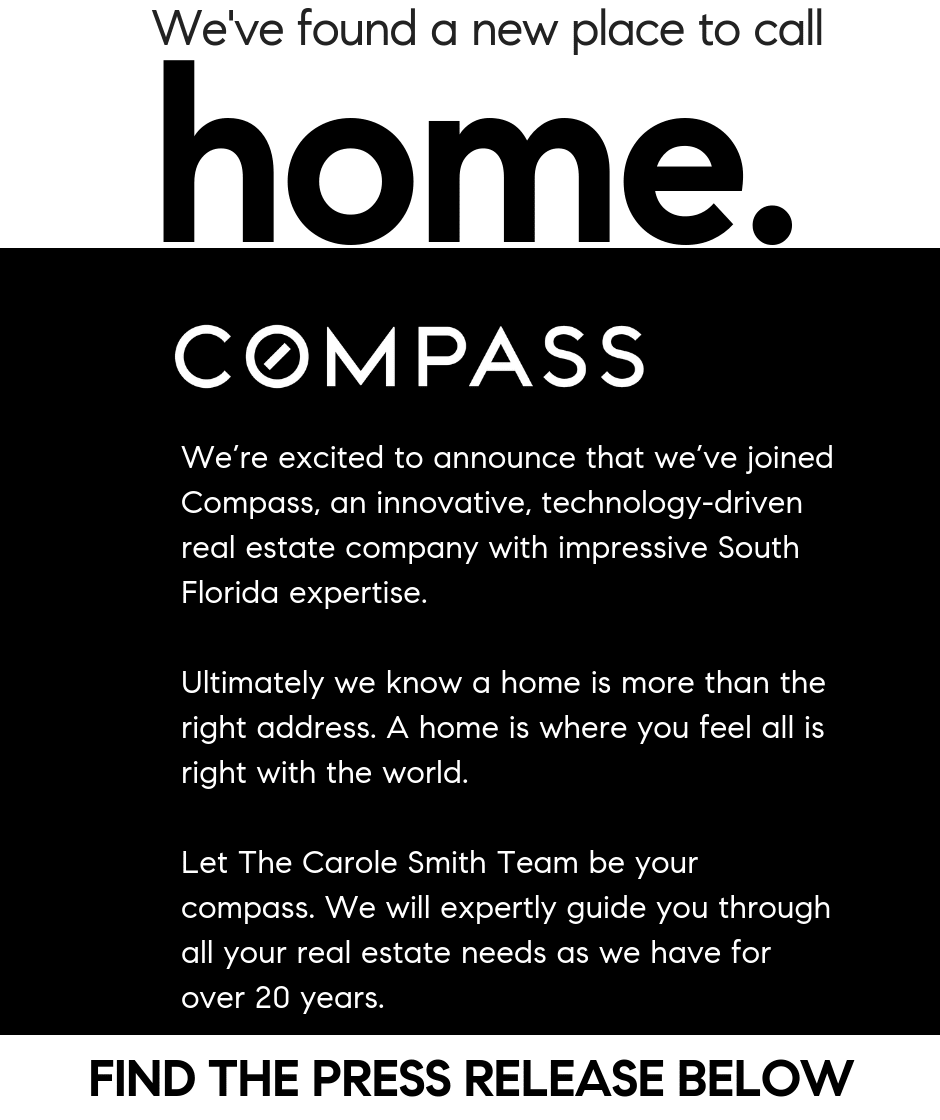 Compass Florida Announces Carole Smith as Vice President and Director of Agent Strategy
Carole Smith brings 25 years of real estate experience to Compass' Coral Gables Office
MIAMI – October 01, 2018
–
Compass Florida
is proud to announce the brokerage's new Vice President and Director of Agent Strategy, Carole Smith. Carole specializes in the luxury South Florida communities of Coral Gables, Coconut Grove, South Miami, Ponce/Davis, Pinecrest, Palmetto Bay and nearby areas. Carole and her team of six agents will operate out of Compass' Coral Gables office located at 4699 Ponce de Leon Blvd.
"I see so many industries being reshaped by technology and new consumer habits, and I know real estate is also undergoing a paradigm shift," said Carole Smith. "I flourished with a stellar brokerage for years, but I believe in Compass' innovative vision. They are harnessing technology to optimize the agent experience and connect more people with a place to call home, and I want to be a part of it. I am excited to join Compass in building the future of real estate."
In her new role at the tech-forward brokerage, Carole will focus on honing and developing Compass' agents' skills in addition to providing clients with her real estate experience and negotiation skills. As a certified Luxury Homes Specialist with more than 25 years of experience in the South Florida real estate market, she will support in identifying new opportunities for Compass Florida and its agents, allowing the brokerage to continue to strengthen its presence in the state's top luxury markets. A respected name in South Florida real estate, Carole Smith is one of the Top 10 producers in Miami-Dade County and represents the top half of the one percent, nationally. Her listings in South Florida range from $1 million to $15 million.
"Carole does a great deal of luxury transactions with many of the accomplished heads of industry, finance and the arts in South Florida. This, paired with her outstanding reputation and experience in the real estate market make her an asset to Compass Florida and the team at Coral Gables," said Beth Butler, General Manager of Compass Florida. "I have known and worked with Carole for many years and we look forward to welcoming her to the Compass family."
Before joining Compass Florida, Carole Smith was the Senior Vice President at EWM Realty International, a Christies Real Estate affiliate. Throughout her career, she has been twice awarded Best Real Estate Professional of the Year by Florida's Best Award and Realtor® of the Year by the Greater Miami Chamber of Commerce. In addition, she has received accolades for Leaders in Luxury's Best Web Site was named a Mega Broker by Unique Homes Magazine and listed as one of the thousand Best Real Estate Professionals in 2017 by Real Trends. Beyond her everyday work, Carole is a member of the Master Brokers Forum and a member of the Who's Who in Luxury Real Estate. Carole holds a certificate from Harvard Law School's Program on Negotiations.
For more information, please visit:
compass
.
About Compass
Compass is a real estate technology company with a powerful end-to-end platform that supports the entire buying and selling workflow. We deliver an incomparable experience to both agents and their clients all in service of the Compass mission: to help everyone find their place in the world. Founded in 2012 by Ori Allon and Robert Reffkin, Compass operates in 14 regions across the United States: New York City, Los Angeles, San Francisco, Boston, Washington, D.C., Chicago, San Diego, Dallas, Miami, Orange County, The Hamptons, Santa Barbara and Montecito, and Aspen. Learn more and find your place at
compass
and
compass
.